Many Canadians have stepped forward to welcome and support Syrian refugees, including members of the York University community. We have all been donating to each other's groups, and we hope that you will consider donating to #SEEDSYorkU:
Please visit giving.yorku.ca/seeds to donate. Thanks!
All funds raised will be transferred to a York University cost centre, and be subject to the university financial audit rules.
If you're a YorkU student, staff or faculty member who is interested in getting involved with creating STEM opportunities for refugees arriving in Canada from Syria, please contact the SEEDSatYorkU steering committee: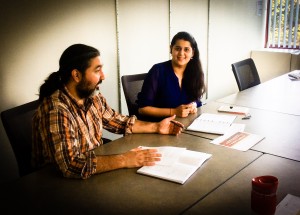 Chair:
Professor Sapna Sharma, Biology Department (far right)
Members:
Professor Dawn Bazely, Biology Department
Dr. Margaret Hough, Faculty of Science (below left)
Professor Roberto Quinlan, Biology Department (above left)
Ms. Samantha Stefanoff, MSc Candidate, Biology Department (below right)